Rosemary Soda Bread With Edamame and Pea Hummus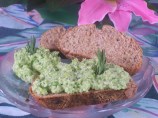 Photo by luvcook'n
Prep Time: 45 mins
Total Time: 1 hr 30 mins
Serves: 12, Yield: 2 6" loaves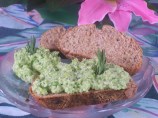 Photo by luvcook'n
About This Recipe
"The bread is delightfully rustic with the fresh clean tasting hummus! Don't let the list of ingredients intimidate....it all comes together fairly quickly. When I have a long list of ingreds...I assemble all beforehand. I found that one package of edamame (500g) in the shells...give the 1 1/2 cups of beans. Bread is deliciously crumbly. Slice and serve warm with hummus."
Ingredients
Bread

3 1/3 cups whole wheat flour ( 100%)

1/2 cup wheat germ

1/2 cup quick oats

1/4 cup natural bran

1 tablespoon sugar

1 tablespoon fresh rosemary, chopped

1 tablespoon baking powder

1 teaspoon baking soda

1 teaspoon salt

3/4 teaspoon black pepper, freshly ground

1 3/4 cups buttermilk

1/4 cup extra virgin olive oil

1 egg white, whisked

Hummus

1 1/2 cups edamame beans, thawed and shelled

1/2 cup frozen peas, thawed

1/4 cup vegetable stock or 1/4 cup water

1/4 cup fresh flat leaf parsley, minced

2 large garlic cloves, minced

3 tablespoons extra virgin olive oil

2 tablespoons tahini paste

1 freshly squeezed lemon, juice of

1/2 teaspoon sesame oil

1/2 teaspoon Dijon mustard

1/2 teaspoon ground cumin

1/2 teaspoon sea salt

1/4 teaspoon fresh ground black pepper
Directions
To make bread:

Preheat oven to 375 degrees. Position rack in centre of oven.

Heat oil until warmed.

Combine flour, wheat germ, oats, bran, sugar, rosemary, baking powder, baking soda, salt and pepper in large bowl. Stir to blend.

Combine buttermilk and warm oil and pour over flour mixture in bowl.

Stir with spatula just until flour mixture is moistened; it will appear quite dry.

Transfer dough to a floured surface and gently knead until dough comes together, about 7 turns. DO NOT OVERMIX or bread will become tough during baking.

Divide dough in half and form each into a 6" oval loaf.

Place on ungreased baking sheet, leaving about a 5" space in between.

Brush with egg white and sprinkle with freshly ground black pepper.

Bake for about 45 minutes -- until it is golden and hollow when tapped.

Cool 30 minutes on rack.

Hummus:.

Place edamame beans in food processor or blender fitted with a metal blade.

Add remaining ingredients and pulse on and off, occasionally scraping down sides of the bowl until mixture is as smooth as you like. Add a wee more oil and more salt to taste, if you wish. (I find you don't need to do that).