Lawry's Seasoned Salt (Copycat)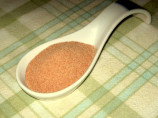 Photo by The Spice Guru
Prep Time: 7 mins
Total Time: 7 mins
Servings: 100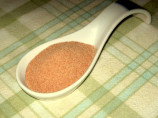 Photo by The Spice Guru
About This Recipe
"My reverse-engineered recipe for Lawry's Seasoned Salt, originally marketed as a seasoning rub for ribs before barbecuing."
Ingredients
BASE MIXTURE

1/3 cup fine salt ( Morton Popcorn Salt)

3 1/2 teaspoons superfine sugar

1 1/2 teaspoons cornstarch

HERBS AND SPICES

1 1/2 tablespoons celery salt

1 tablespoon paprika

1 1/2 teaspoons onion powder

1 teaspoon garlic powder

1 teaspoon ground turmeric

1/8 teaspoon cayenne pepper
Directions
NOTE: I RECOMMEND USING MORTON POPCORN SALT AND TRADEWINDS BRAND GROUND CELERY SALT, BOTH SOLD AT SMART & FINAL. THERE WILL BE A SLIGHTLY DIFFERENT COLOR RESULT FROM LAWRY'S BRAND DUE TO THE ABSENCE OF OLEORESIN, A COLORING AGENT.

MEASURE all BASE MIXTURE ingredients into a small bowl.

COMBINE until well blended.

ADD all HERBS AND SPICES ingredients to BASE MIXTURE in bowl.

STIR and press with a fork for at least 2 minutes to release and infuse the essences between the spices.

STORE spice mixture in a tightly sealed container to preserve freshness (spice mixture actually improves after 30 days and becomes even more authentic due to the infusion between all of the herbs and spices).

ENJOY as a seasoning for your favorite foods.