Smoked Salmon and Scallion Tea Sandwiches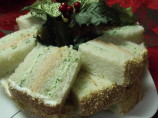 Photo by Darkhunter
Prep Time: 45 mins
Total Time: 45 mins
Serves: 32, Yield: 32 tea sandwiches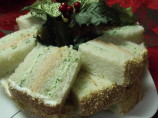 Photo by Darkhunter
About This Recipe
"ZWT6 Norway. Recipe by Grace Parisi from http://www.foodandwine.com. Smoked salmon could be considered the most important Norwegian contribution to modern international cuisine. Smoked salmon exists traditionally in many varieties, and is often served with scrambled eggs, dill, sandwiches or mustard sauce. Here is a beautiful tea sandwich."
Ingredients
1/4 cup sesame seeds

3/4 lb sliced smoked salmon

1 1/2 teaspoons wasabi powder mixed with 1 1/2 teaspoons water

1 teaspoon finely grated fresh ginger

1/4 cup creme fraiche

3/4 lb cream cheese, at room temperature

4 scallions, green parts only, chopped

1/4 cup finely chopped watercress leaf

kosher salt and fresh ground white pepper, to taste

24 thin slices white bread
Directions
In a small skillet, toast the sesame seeds over moderate heat, shaking the pan, until light golden, about 2 minutes. Transfer to a plate and let them cool.

In a food processor, combine the salmon, wasabi, ginger and crème fraîche and pulse until smooth. Transfer to a bowl. Wipe out the processor.

Add the cream cheese, scallions and watercress to the processor and puree until smooth. Season with salt and white pepper.

Using a small spatula, spread a scant tablespoon of the scallion cream cheese onto each of 3 slices of bread. Spread a scant tablespoon of the salmon mixture onto each of 2 slices of bread. Stack the bread, beginning and ending with a scallion layer; top the stack with a plain slice of bread and press to close. Repeat with the remaining bread, scallion cream cheese and salmon mixture to form 4 sandwich stacks.

Using a sharp serrated knife, trim off the crusts. Cut each sandwich stack in half. Spread scallion cream cheese over the long side of each sandwich half, then dip the long sides into the toasted sesame seeds, pressing to coat. Cut each sandwich half into 4 smaller sandwiches, leaving 1 side coated with sesame seeds. Transfer the sandwiches to a plate and serve.

MAKE AHEAD:.

The halved sandwiches can be covered with a lightly moistened paper towel and plastic wrap and refrigerated overnight. Bring to room temperature before cutting into small sandwiches and serving.