Dakos from the Island of Crete(Greece)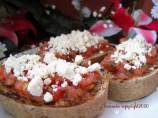 Photo by Annacia
Prep Time: 10 mins
Total Time: 16 mins
Servings: 4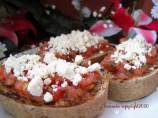 Photo by Annacia
About This Recipe
"A traditional meze or light meal on the island of Crete, dakos (also called "koukouvayia") is often called "Greek bruschetta," and is easy to make with few ingredients. The original recipe calls for barley rusk, which is a really dry bread and is sprayed with water to moisten it. This recipe can be updated to use whatever rustic type bread you have on hand."
Ingredients
1/2 of a large round of crusty country bread, cut in thick 1-inch slices ( such as barley, artisan, whole grain, etc.)

1 large ripe tomatoes, coarsely grated ( or 2 small-discard skin)

2 -3 tablespoons feta cheese, crumbled ( or aged myzithra)

extra virgin olive oil

fresh ground pepper

Greek oregano ( rigani)
Directions
Place the bread slices under the broiler and broil a few minutes on each side to toast golden brown.

Grate the tomato with a vegetable grater (or the large grate on a multi-grater) into a strainer over a bowl so most of the liquid drains off.

Spread the grated tomato on the bread and top with cheese. Sprinkle with pepper and a good amount of oregano, and drizzle with olive oil.

Yield: 2-4 as a meze or appetizer.