Olive Oil / Safflower Oil Mayonnaise (Mayo)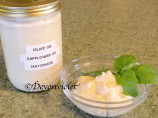 Photo by Devonviolet
Prep Time: 15 mins
Total Time: 15 mins
Serves: 27, Yield: 27 tbsp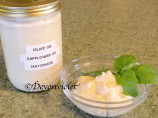 Photo by Devonviolet
About This Recipe
"I have been looking for a healthy "Mayo" recipe for a while now, and finally decided to try one, that I had found. It was a dismal failure. I think adding the mustard and lemon juice, at the beginning, may have caused the egg to curdle, and it never thickened. So, I tried mixing the egg and slowly drizzled oil mixture, first, and then the lemon, salt and mustard. Voila! Success! I used Brown Mustard with Horseradish, because that is what I had in the house. But, I think you could use Dijon or even yellow mustard, with excellent results. I mixed Olive Oil and Safflower Oil, because I had seen that Olive Oil, by it's self, it really strong. But, you can use any oil or combination of oils. I hope my recipe is what you are looking for, and that you enjoy it, as much as my hubby and I do."
Ingredients
1 large egg, must be room temp

1 cup safflower oil

1/2 cup olive oil ( Extra Virgin)

2 teaspoons brown mustard

1/4 teaspoon sea salt

4 teaspoons lemon juice ( Bottled Juice works)
Directions
Place the egg in a food processor, or blender, and turn it on.

Slowly drizzle oil mixture, until all added. The mayo will thicken, as more oil is added.

Add mustard, salt and lemon juice.

Pulse the food processor, or blender, until all ingredients are well blended.

Scoop into a glass jar, and store in refrigerator. This will stay fresh for up to ten days.