Fiery Avocado Red Curry and Shrimp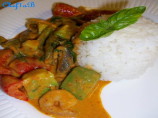 Photo by chef1aB
Prep Time: 10 mins
Total Time: 15 mins
Servings: 4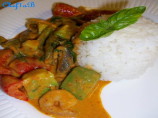 Photo by chef1aB
About This Recipe
"Dear Mexican Avocado, This is a recipe I specifically created for you. I made it for my family last night for dinner and we really enjoyed it. We enjoy Thai red curry and avocados separately and it really wasn't until I found out that you were looking for a new love that I thought of combining these two ingredients. I hope that you will fall hard (in love) with it too."
Ingredients
1 tablespoon vegetable oil

2 tablespoons red curry paste

1 cup red bell pepper, cut into 1-inch square pieces

1 cup fresh green beans, trimmed and sliced into 1-inch pieces

1 cup sliced red onion

1 1/4 cups unsweetened coconut milk, canned

1 teaspoon fish sauce

1/8 teaspoon salt

1/4 teaspoon sugar

2 ripe avocados, from mexico pitted peeled and cubed

1 lb medium raw shrimp, peeled and deveined, tail-off

3 tablespoons sliced sweet basil or 3 tablespoons Thai basil

4 cups cooked jasmine rice
Directions
Heat oil in a large sauté pan over medium-high heat. Add red curry paste; cook and stir about 15 seconds. Add red bell peppers, green beans, and red onions. Cook and stir, about 2 minutes. Stir in coconut milk, fish sauce, salt, and sugar, bring to a boil. Cover pan with lid and simmer over low-medium heat, about 8-10 minutes until vegetables are tender but firm. Uncover pan and stir in avocados and shrimp. Cover pan with lid once again and cook until shrimp is cooked all the way through, about 2 minutes. Remove pan from heat. Stir in basil leaves just before serving. Serve with rice.