Pecan Bars - America's Test Kitchen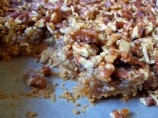 Photo by Debbie R.
Prep Time: 20 mins
Total Time: 1 hr 30 mins
Yield: 16 bars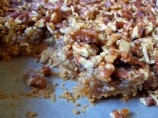 Photo by Debbie R.
About This Recipe
"These are absolutely outstanding--by far the best pecan bars I've ever tried. I used white whole wheat flour for the crust and, since I didn't have dark rum, used golden rum. I also used Smart Balance's 50-50 Baking Blend to avoid some of the cholesterol. Even with all these substitutions, they were outstanding to the point that I'll never make any other pecan bar. Cooking time does not include 2 hrs. to cool after baking."
Ingredients
Crust

236.59 ml all-purpose flour

78.07 ml packed light brown sugar

59.14 ml pecans, toasted

4.92 ml salt

1.23 ml baking powder

88.74 ml unsalted butter, cut into small pieces and chilled

Filling

118.29 ml packed light brown sugar

78.07 ml light corn syrup

59.16 ml unsalted butter, melted and cooled

14.79 ml Bourbon ( or dark rum)

9.85 ml vanilla extract

2.46 ml salt

1 large egg, lightly beaten

414.03 ml pecans, toasted and coarsely chopped
Directions
Toast all of the pecans first. Put all them (in a single layer) on a rimmed baking sheet. Bake in a 350 degree oven for 5 - 10 minutes until golden brown and fragrant. Give them a shake every few minutes and watch closely; they can go from toasted to burnt very quickly. Let cool.

While that's going on, melt your butter so that it can cool adequately for the filling.

For the crust: Line an 8-inch square pan with foil (two large sheets going opposite direction), then coat lightly with oil spray.

Process flour, brown sugar, pecans, salt and baking powder in a food processor until it resembles coarse cornmeal, about 5 pulses. sprinkle the butter over the top. Pulse until the mixture is pale yellow and resembles coarse oatmeal, about 8 pulses.

(If you don't have a food processor, take 1/4 Celsius toasted pecans and chop them very, very finely. The toasting makes them very easy to chop into a meal or near-meal. I used a butchers knife on a wooden board. Mix them with the rest of the crust's dry ingredients, and then cut in the butter with a pastry blender.)

Put the crust mixture in the prepared pan. Press firmly into an even crust with your fingers. Bake at 350 degree oven until it starts to brown, 20 - 24 minutes.

For the filling: As soon as the crust finishes baking, whisk together the brown ssugar, corn syrup, melted butter, bourbon/rum, vanilla and salt just until combined. Whisk in the egg until incoporated, then pour over the hot crust. Sprinkle the pecans over the top.

Bake until top is brown and cracks start to form (Note: I never saw cracks on mine. I took them out when it was started to brown up and I didn't see goop on a toothpick.) Bake for 25 to 30 minutes.

Let cool completely on a wire rack, about 2 hrs., before removing from the pan using the foil as lifters.