Tex Mex Slow Cooker Tacos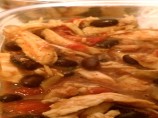 Photo by Mrs. Regan
Prep Time: 10 mins
Total Time: 6 hrs 10 mins
Servings: 12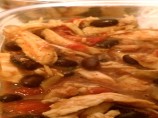 Photo by Mrs. Regan
About This Recipe
"I threw this together last night and wanted to write it down so I wouldn't forget. My husband wouldn't shut up about how much he liked it and he NEVER is so complimentary! Served with corn tortillas, homemade refried beans, chopped onions, jalapeños, tomatoes, queso fresco, anything you like. I'm planning on using the leftovers for enchiladas, yum!"
Ingredients
2 -3 lbs bone-in chicken parts, skinned ( thighs seem to be the best)

1 small onion, chopped

1 (14 ounce) cans diced tomatoes

1 (14 ounce) cans enchilada sauce ( I used Hatch brand 5-pepper enchilada sauce)

1 (4 ounce) cans diced green chilies

1 tablespoon ground cumin

3 tablespoons chili powder

salt & pepper
Directions
Remove skin and cut breasts into 2 pieces.

Dump all ingredients but the chicken into the crock pot and stir.

Add chicken and cook on low for 6 hours, high for 4 (times may vary, I'm guessing, I cooked mine for more like 8 hours because I lost track of time).

Chicken should be falling off the bone, remove from pot and shred.

serve with tortillas or use in enchiladas!