Risotto With Porcini Mushrooms and Mascarpone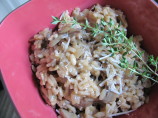 Photo by JanuaryBride
Prep Time: 0 mins
Total Time: 25 mins
Servings: 4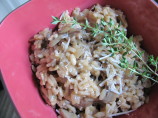 Photo by JanuaryBride
About This Recipe
"From Cooking Light Jan/Feb 2010"
Ingredients
2 cups boiling water

1 cup dried porcini mushrooms

1 (14 ounce) cans low sodium beef broth

cooking spray

1 cup uncooked arberie rice

3/4 cup chopped shallot

2 garlic cloves

1/2 cup dry white wine

1/4 cup grated parmigiano-reggiano cheese

1 tablespoon chopped fresh thyme

1/2 teaspoon salt

1/2 teaspoon black pepper

1/4 cup mascarpone cheese

fresh thyme ( to garnish)
Directions
Combine 2 c boiling water and mushrooms; let stand 30 mins or until soft. Drain through a colander over a bowl. Reserve 1 1/2 c soaking liquid; chop mushrooms.

Bring soaking liquid and broth to a simmer in a small saucepan (do not boil). Keep broth mixture warm.

Heat a large saucepan over medium-high heat. Coat pan with cooking spray. Add rice, shallots, and garlic; saute 5 minutes. Add wine, and cook until liquid evaporates (about 2 mins).

Add 1 c broth mixture to rice mixture; cook over medium heat 5 minutes or until the liquid is nearly absorbed, stirring constantly. Add remaining broth mixture, 1/2 c at a time, stirring constantly until each portion of the broth mixture is absorbed before adding the next (about 25 mins total). Add mushrooms, grated cheese, chopped thyme, salt, and pepper; stir gently until cheese melts. Spoon 1 c risotto into each of 4 bowls and top with 1 T mascarpone and thyme leaves if desired.