My Family Italian Sausage & Peppers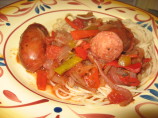 Photo by averybird
Prep Time: 20 mins
Total Time: 1 hr 30 mins
Servings: 6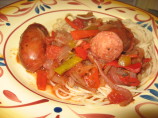 Photo by averybird
About This Recipe
"My Italian ancestors come Southern Italy; specifically Calabria. This is similar to what I remember my Dad making; process and ingredients. He probably got the technique from his GF Frank Scavo...but we also have Comita, Scalzo, Gigliotti, Grande and Micelli in our line...so who knows? (Frank made his own sausage..mmmmm) I highly suggest that you serve this over Creamy Parmesan Polenta (Parmesan Polenta)"
Ingredients
20 small sweet italian peppers

1 green pepper

2 red onions

14.79 ml garlic, minced

907.18-1360.77 g Italian sausages ( hot & mild combo)

118.29 ml red wine

793.78 g Italian tomatoes ( Canned, Cento's Chef's Cut with Basil found in Italian section of supermarket)

44.37 ml oregano

59.16 ml basil

1 fennel bulb (optional)
Directions
Add EVOO to the bottom of a pan that can be used stove top and in the oven.

Add sausage and brown; remove from pan.

Add onions and peppers (and fennel if using) and cook until soft.

Deglaze with wine.

Add tomatoes to the pan; add oregano/basil and stir; bring to a boil.

Add sausage back in pan and submerge under pepper/tomato mixture.

Place pan in the oven at 375 degrees with lid on. Cook 40 minutes.

Remove lid, stir. Cook additional 30 minutes.