Shredded Pork Stew With Smoky Chipotle Tomato Sauce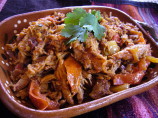 Photo by cookiedog
Prep Time: 20 mins
Total Time: 1 hr 50 mins
Servings: 6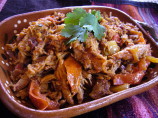 Photo by cookiedog
About This Recipe
"Tastes like something you would get from a taqueria and it makes great leftovers. It would be great for a party because you can make it ahead and it just tastes better. I doubled the amount of pork and used this for burritos. From Lourdes Castro's Simply Mexican. (I love this Book!)"
Ingredients
1 lb pork shoulder ( I used 2 lbs)

2 bay leaves

3 garlic cloves, 2 crushed and 1 chopped

2 tablespoons olive oil

1 lb fresh mexican chorizo sausage, casing removed

1 onion, sliced

1 teaspoon salt

adobo sauce, from canned chipotles ( 1/4 cup)

2 canned chipotle chiles

1/2 teaspoon dried oregano

2 sprigs fresh thyme, leaves removed from stem ( I used 1/4 tsp. dried)

2 sprigs fresh marjoram, leaves removed from stem ( I used 1/4 tsp. dried)

Garnish

1 sprig cilantro

tortilla chips

Mexican crema
Directions
Prepare the Meat: Cut the pork into large chunks. Put the pork in a saucepan and fill with enough water to cover the meat by 1 inch. Add the bay leaves and crushed garlic. Bring to a boil and skim off the grayish foam that rises to the top during the first few minutes. Decrease the heat to a simmer and cook for 45 minutes, patially covered, or until the pork is tender. (I found I needed to cook the pork double the amount of time.)

Allow the pork to cool in the stock, then drain reserving 1 cup of the stock. Shred the pork by pulling apart the fibers with two forks or your fingers. Set aside.

Prepare the Chorizo: Heat 1 tablespoon of the olive oil in a saucepan over medium heat. Add the chorizo to the pan and cook, breaking it apart as you stir, until it achieves a golden brown color and begins to render its fat. (Don't worry if some of the chorizo sticks to the bottom of the pan.) Using a slotted spoon, remove the chorizo from the pan and set it aside.

Brown the Main Ingredients: Add the remaining 1 tablespoon olive oil to the unwashed pan and set it over medium heat. Add the onion and remaining chopped garlic and saute until the onion begins to get limp and translucent, 3 minutes. Add the shredded pork, season with the salt, and continue sauteing for 3 more minutes. Deglaze the pan by pouring in a couple of tablespoons of the reserved pork stock and scraping the bottom of the pan with a heatproof silicone spatula.

Finish the Stew: Add the chorizo, tomatoes, chipotles, adobo from canned chipotles, oregano, thyme leaves, and marjoram leaves to the pan. Stir well and simmer for 5 minutes. Pour in the remaining reserved pork stock and continue simmering, uncovered, for 25 minutes.

Garnish and serve: Pour the finished stew into a large shallow bowl and garnish sprigs of cilantro. SErve with tortilla chips and Mexican crema.