Venison Bourguignon (Venison Stew)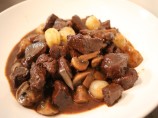 Photo by Danielbledsoe
Prep Time: 30 mins
Total Time: 3 hrs 30 mins
Serves: 6, Yield: 6 bowls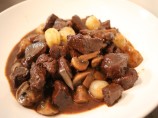 Photo by Danielbledsoe
About This Recipe
"Very similar to Julia Child's famous Boeuf Bourguignon. A family favorite comfort food."
Ingredients
3 lbs venison, cut into cubes

2 tablespoons bacon drippings

1 medium carrot, chopped rough

1 medium onion, chopped rough

1 teaspoon salt

1 teaspoon pepper

2 tablespoons flour

3 cups red wine, full bodied

2 -3 cups beef stock

1 tablespoon tomato paste

2 garlic cloves, halved

1 teaspoon thyme

1 teaspoon oregano

1 teaspoon basil

2 bay leaves

Mushroom and Onion mixture

18 -24 baby white onions, peeled

1 lb mushroom, fresh, quartered

2 tablespoons butter

2 tablespoons beef stock
Directions
Sauté meat cubes in bacon dripping until all sides are browned.

Remove meat and sauté onion and carrot. When cooked, set vegetables aside, drain fat, and return meat to pan and toss with salt and pepper.

Sprinkle flour evenly over mixture and toss to coat.

Place uncovered casserole on middle rack of preheated 450 degree oven for 5 minutes, to lightly crust meat. Remove casserole from oven and reduce temperature to 325 degrees.

Stir in wine and enough stock so that the meat is covered. Add tomato paste, garlic and herbs. Bring to a simmer, on top of stove. Toss cooked vegetables in casserole. Cover casserole and return to oven. Cook for 2 ½ to 3 hours until meat is tender.

While meat is cooking, sauté mushrooms and baby onions in butter and beef stock. Set aside until needed.

When meat is ready, pour contents of casserole in large sieve set over a sauce pan. Remove meat pieces and return to casserole. Add the mushroom and baby onion mixture to casserole.

Simmer broth in saucepan for a minute or two, skimming fat as it rises. You should have at least 2 ½ cups of sauce. Taste for seasoning. Pour sauce over mixture.

Enjoy.