The Best Chicken Soup Ever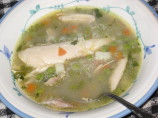 Photo by Calywa
Prep Time: 45 mins
Total Time: 2 hrs 45 mins
Servings: 8-10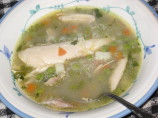 Photo by Calywa
About This Recipe
"I learned how to make this soup when I was in Ecuador a couple of years ago and it is still the best recipe for chicken soup that I have ever tasted. Please let me know what you think of it."
Ingredients
For the stock

1 (3 -4 lb) whole chickens

1 chicken bouillon cube

1 large juicy tomatoes

1 handful fresh cilantro

1 handful fresh parsley

1 med-small onion, peeled and quartered

1 celery, with leafy greens attached

3 -4 garlic heads

2 bay leaves

salt, pepper and oregano to taste

For the soup

3 medium potatoes, cut up into small squares

1 poblano peppers or 1/2-1 green bell pepper, diced

1 large carrot, diced

1 small onion, diced

6 ounces frozen peas

2/3 cup uncooked rice

1 handful of both finely chopped parsley and cilantro
Directions
To make the stock, place all of the ingredients from the first (for the stock) section in a large stockpot. Add just enough water to cover the chicken and let simmer under low heat for approximately 1 1/2 to 2 hours.

Turn off the heat and remove the chicken from the stock. Strain the chicken broth and if necessary, skim off any extra fat from the top with a ladle.

Once the chicken is cool enough to handle with your hands, pull the chicken into large chunks and dispose of the skin and bones.

To the stock and chicken chunks, add all the ingredients from the second (for the soup) section of ingredients.

Let simmer for another 20 minutes or so until all the ingredients are cooked thoroughly and the flavors infuse together. Remove from heat and enjoy.