Sweet N'spicy Mango Salmon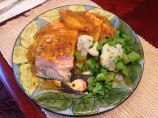 Photo by Chris729
Prep Time: 10 mins
Total Time: 22 mins
Servings: 2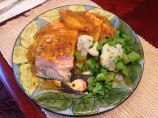 Photo by Chris729
About This Recipe
"This delicious, quick and simple low-calorie meal serves two. recipe easily doubles or triples to serve more."
Ingredients
you will need

1 large mango

8 -12 ounces salmon ( two 4-6oz filets)

1 tablespoon soy sauce

1 teaspoon fresh minced ginger

1 teaspoon fresh minced garlic

1 tablespoon lemon juice

1 1/2 tablespoons brown sugar

1 teaspoon cinnamon

1 tablespoon sugar

1/2 tablespoon crushed red pepper flakes
Directions
1. Preheat oven to 375 degrees.

2. Cut mango in to halves (watch for the pit) and peel off the skin. Julienne the mango in to long strips.

3. As sizes and amounts will vary, take aprox. 1/4 of the mango strips and place them in to a food processor or blender and puree them until a thick liquid is formed. Set the remaining 3/4 of the mango strips aside.

4. Mix together the mango puree, soy sauce, ginger, garlic, lemon juice, and brown sugar in a small bowl to form the sauce for the salmon.

5. Place the salmon filets in a shallow baking pan lined with foil. Heavily baste the salmon filets with the sauce, and pour remaining sauce around filets.

6. Mix together remaining mango strips, cinnamon, and sugar. Make sure that all mango strips are evenly coated.

7. Place mango strips around the salmon filets.

8. Sprinkle the filets and mango strips wit hthe crushed red pepper.

9. Fold up the sides of foil so that all ingrediants remain touching throughout the baking process.

10. Bake for 12-15 minutes, or until salmon flakes with a fork.

*larger filets may need longer cooking time.