Mahi Mahi With a Pear and Jalapeno Chutney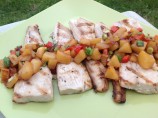 Photo by AZPARZYCH
Prep Time: 15 mins
Total Time: 43 mins
Servings: 4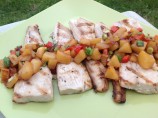 Photo by AZPARZYCH
About This Recipe
"DH and I made this easy recipe from my "The New Legal Seafoods" cookbook a few nights ago. We opted to prepare the mahi mahi in our stovetop grill pan, which worked well. I halved the recipe with great success, though I only needed one pear. According to the recipe, the fruit chutney also works well with swordfish, tuna, snapper, and even pork and will keep for several days if refrigerated. However, it cautions that if you are going to save extra sauce, omit the mint until just before serving."
Ingredients
1 tablespoon grapeseed oil

1/3 cup chopped red onion

2 -3 tablespoons fresh orange juice

2 tablespoons fresh lemon juice

2 tablespoons dry white wine

1/3 cup sugar

1 -2 teaspoon lemon zest

5 medium-hard pears, peeled and diced ( about 2 cups)

3 tablespoons chopped scallions, both white and green parts

1 jalapeno, seeded and minced

2 tablespoons diced red peppers

2 -3 tablespoons julienned of fresh mint (optional)

2 lbs mahi mahi
Directions
Heat the oil in a large, nonreactive saucepan and add the onion. Cook, stirring constantly for 1 minute.

Add the orange and lemon juices, wine, sugar, and lemon zest. Cook over high heat, stirring frequently, until the juices are reduced by half.

Stir in the pears. Continue cooking over medium-high heat until the pears are cooked through, but still have some texture, 5 to 10 minutes.

Place the mixture in a bowl and let cool. Stir in the scallions, jalapeno, red pepper, and mint (if using).

Mahi mahi fillets can be thick, so cut them cross-wise into 1 inch thick pieces, if necessary. Oil the fillets and broil or grill until done. It is unnecessary to turn the fish.

Remove from the heat and top each serving with at least 1 Tb of the chutney.