Gluten- and Dairy-Free Chicken Enchiladas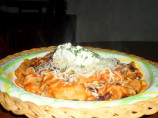 Photo by Peachie Keene
Prep Time: 15 mins
Total Time: 40 mins
Servings: 5-6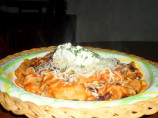 Photo by Peachie Keene
About This Recipe
"For the food-allergic set; tasty even for the regular guy. My husband and four year old (who hates everything) really liked these, as did I. You can serve these with a side of grated cheese for those who are able to have it. This sounds a little odd when you are following the directions, but it turns out amazing, I promise."
Ingredients
1 chicken breast, cooked and chopped ( can microwave it)

3 tablespoons cornstarch

1/2 cup water

2 cups chicken broth

1 cup rice milk, coconut milk beverage ( not canned)

3/4 teaspoon salt

1/2 teaspoon paprika

1 pinch chili powder (optional)

1/2 teaspoon onion powder

1/4 teaspoon cumin

1/4 teaspoon garlic powder

1 pinch pepper

0.5 (14 ounce) cans diced tomatoes ( including juices)

0.5 (15 ounce) cans black beans, drained and rinsed

1/2 cup frozen corn, thawed

9 corn tortillas, torn into pieces
Directions
Preheat oven to 400 degrees.

Put cornstarch and water into a large pot. Stir thoroughly. Add the remaining liquid, seasonings, and salt. Bring to a boil, and let simmer until it starts to get hot and thickens very slightly (will be runny).

Add chicken, tomatoes, beans, and corn. Stir, then add the tortilla pieces.

Place into an ungreased 8x8 or 9x9 inch baking dish. Bake at 400 degrees for 20 to 25 minutes or until hot and bubbly.

(This can also be cooked on the stove for about 10 minutes.).