Bea's Version of Swiss Chalet Dipping Sauce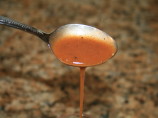 Photo by ScrappieDoo
Prep Time: 10 mins
Total Time: 30 mins
Serves: 6, Yield: 3 cups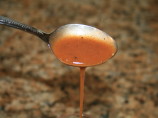 Photo by ScrappieDoo
About This Recipe
"Same as with my Bea's Swiss Chalet Style Rotisserie Chicken Marinade, I have been playing around with spice combinations to best match the "Swiss Chalet" Dipping Sauce Flavours. I think I am finaly close enough to stop experimenting. I serve this of course with my Bea's Swiss Chalet Style Rotisserie Chicken Marinade to dip the chicken in or dunk your side bread roll in. The list of ingredients might seem a bit intimidating, but, it is just spices and herbs........ Hope you enjoy these as much as I do."
Ingredients
1 tablespoon dehydrated tomato soup mix

2 1/2 tablespoons dehydrated chicken soup base

1 bay leaf

1 1/2 teaspoons paprika

1/2 teaspoon sugar

1/4 teaspoon basil

1/2 teaspoon ground ginger

1/4 teaspoon dried mustard

1/4 teaspoon onion powder

1/4 teaspoon parsley

3/4 teaspoon savory

1/2 teaspoon allspice

1/4 teaspoon thyme

2 1/2 cups water

1 teaspoon Worcestershire sauce

1/4 teaspoon Frank's red hot sauce

2 tablespoons cornstarch

2 tablespoons water

1 tablespoon vegetable oil
Directions
Pour water, Worcestershire, Red Hot Sauce and all dry ingredients (first 13) in saucepan and bring to a boil. Reduce heat and simmer 3 minutes.

Remove bay leaf.

Mix cornstarch with 2 tbsp water; stir into sauce.

Cook, stirring constantly until sauce thickens.

Whisk in vegetable oil.

Makes about 3 cups.