Single Serve Hot Chocolate, Fast!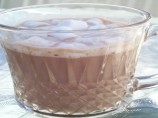 Photo by AZPARZYCH
Prep Time: 1 min
Total Time: 3 mins
Serves: 1, Yield: 1 cup of chocolate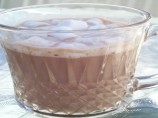 Photo by AZPARZYCH
About This Recipe
"You're out of all the usual suspects and somebody's just come in with red fingers, a runny nose, and one question: "Mommy, can I have hot chocolate?""
Ingredients
3/4 cup water

1/4 cup nonfat dry milk powder

2 tablespoons non-dairy coffee creamer

2 tablespoons nesquik instant chocolate drink mix
Directions
Put all ingredients into a mug and stir. (If you have any lumps in your powders, it's MUCH easier to break them up when they're dry.).

Microwave up to 2 minutes, or until hot.

Stir vigorously to completely mix dry ingredients into water.

(Optional) Top with your favorite hot chocolate extras like whipped cream, peppermint sticks, marshmallows, whatever! Enjoy!