Lombo Di Maiale Coi Porri (Pan-Roasted Pork Loin With Leeks)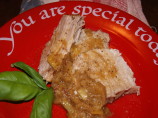 Photo by CaliforniaJan
Prep Time: 15 mins
Total Time: 2 hrs 30 mins
Servings: 6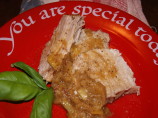 Photo by CaliforniaJan
About This Recipe
"This easy pan roast is served with a supple sauce. Leeks, a mild, sweet member of the onion family, are cooked slowly along with the pork until they're very tender. This recipe earned its status as a favorite because the time-honored Italian technique and straightforward flavor are so reliable. --From Cooking Light,Recipe by Giuliano Hazan"
Ingredients
4 large leeks ( about 2 1/4 pounds)

1/2 cup water

1 tablespoon butter, divided

1/2 teaspoon salt, divided

1/2 teaspoon black pepper, divided

1 (2 lb) boneless pork loin, trimmed well

1/2 cup dry white wine

chopped fresh parsley (optional)
Directions
Remove roots and tough upper leaves from leeks and cut each leek in half lengthwise.

Cut each half crosswise into 1/2-inch-thick slices (you should have about 6 cups), soak in cold water to loosen dirt.

Combine leeks, 1/2 cup water, 1 teaspoon butter, 1/4 teaspoon salt, and 1/4 teaspoon pepper in a large Dutch oven or deep sauté pan over medium-high heat.

Cook for 10 minutes or until leek wilts, pour the leek mixture into a bowl.

Heat remaining 2 teaspoons butter in pan over medium-high heat.

Add pork to pan.

Cook 5 minutes, turning to brown on all sides.

Add remaining 1/4 teaspoon salt, remaining 1/4 teaspoon pepper, and wine to pan; cook 15 seconds, scraping pan to loosen browned bits.

Return leek mixture to pan.

Cover, reduce heat, and simmer 2 hours or until pork is tender.

Remove pork from pan and increase heat to reduce leek sauce if too watery.

Cut pork into 1/4-inch-thick slices.

Serve with leek mixture.

Garnish with parsley, if desired.

*6 servings (serving size: about 3 ounces pork and about 2 1/2 tablespoons leek mixture).