Sweet Potato Pancakes (Vegan)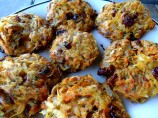 Photo by Wish I Could Cook
Prep Time: 20 mins
Total Time: 55 mins
Serves: 5, Yield: 10 pancakes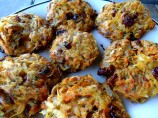 Photo by Wish I Could Cook
About This Recipe
"This vegan recipe, along with its regular counterpart, is from the 2001 As You Like It Cookbook"
Ingredients
4 cups sweet potatoes, peeled, coarsely grated

1 cup water

6 cups red potatoes, shredded

2 cups water ( yes, again)

2 teaspoons salt

1 cup onion, diced

1/2 cup fresh parsley, chopped

1/2 cup unbleached white flour

1 1/4 cups dried cranberries

4 teaspoons Crisco shortening

1/4 cup canola oil
Directions
Put sweet potatoes & 1 cup of water in a large skillet over medium heat, then cover & steam for 10 minutes or until potatoes start to soften. Transfer the potatoes to a plate & set aside.

In a large mixing bowl, combine red potatoes with the salt & 2 cups of water & let stand for 20 minutes before rinsing, draining & pressing dry.

To the red potatoes, add the sweet potatoes, onions, parsley, flour, cranberries & Crisco, mixing well.

Heat half of the oil in the skillet over medium-low heat. When it is hot, add 1/2-cup measures of the potato mixture to the skillet, pressing down to flatten, & cook 3 to 5 minutes or until the bottoms are brown. Turn the pancakes over & brown the other side.

Transfer the cooked pancakes to a paper towle-lined plate & repeat the previous step with the remaining potato mixture.

Serve hot & crisp.