Mayan Banana "Ice Cream" Pie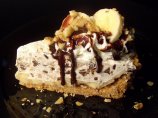 Photo by Deb's Recipes
Prep Time: 20 mins
Total Time: 6 hrs 20 mins
Servings: 8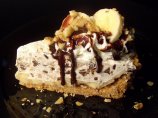 Photo by Deb's Recipes
About This Recipe
"This is loosely based on a dessert I love, my mom 's frozen peanut butter pie. Of course, I adore Haagen Dazs Mayan chocolate ice cream, too, so I thought I would try to combine the 2. You may not need the full half cup of butter for the crust, but I live at high altitude and its super dry, so I need it all!! The chocolate chips can be adjusted based on how chocolate-y you want it, but when it's frozen, it is best to have the mini ones! I may say it serves 8, but my boyfriend thinks it should only serve 2… haha Cook Time is Freezing Time"
Ingredients
Crust

Filling

2 bananas ( ripe)

4 ounces cream cheese, softened

1/2 liter Cool Whip, thawed

1 teaspoon cinnamon or 1 1/2 teaspoons cinnamon

3/4 cup semisweet mini chocolate chips

chocolate syrup

walnuts, crushed
Directions
- line a pie plate with wax paper, hanging over the edges for "handles".

- mix together crust ingredients and press into the bottom and sides of the pie plate.

- slice bananas and layer over top of the crust and up the sides.

- mix together cream cheese, Cool Whip and cinnamon, then fold in the chocolate chips.

- Put it in the freezer overnight to freeze.

- When ready to serve, take out of freezer and grab the wax paper "handles" to remove pie to a cutting board.

- Use a hot knife to slice into 8 and serve drizzle with chocolate syrup and crushed walnuts!