Cauliflower Coconut Curry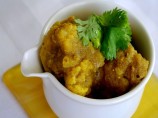 Photo by AmandaInOz
Prep Time: 15 mins
Total Time: 45 mins
Servings: 4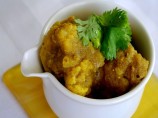 Photo by AmandaInOz
About This Recipe
"This curry is always a hit at my dinner parties. The coconut milk gives it a luxurious flavor and texture, and the tamarind gives it a piquant flavor. A good accompaniment to creamy and mild curries."
Ingredients
1 large onion

cayenne pepper, to taste

2 teaspoons coriander

1/8 teaspoon mustard seeds

1/8 teaspoon fenugreek seeds

1/4 teaspoon cumin

1/4 teaspoon cinnamon

4 peppercorns

2 cloves

1/2 teaspoon turmeric

1/2 teaspoon paprika

1 teaspoon tamarind paste ( I use Tamicon concentrate)

1 inch fresh gingerroot

oil, for sauteing

1 lb frozen cauliflower

14 ounces coconut milk
Directions
Combine all but the last three ingredients in a food processor; run the processor until it forms a paste. Add a little oil and/or a little water if ingredients have trouble processing.

Saute in a pan with the cauliflower and oil for a few minutes until aromatic. Add the coconut milk and simmer until cauliflower reaches desired tenderness. If the curry gets too dry as it simmers, add a little water so that it finishes with a thick, gravy-like sauce.