Spicy Noodles With Ginger-Garlic Shrimp and Wasabi Sauce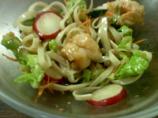 Photo by Robyn's Cookin'
Prep Time: 30 mins
Total Time: 35 mins
Serves: 3, Yield: 3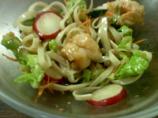 Photo by Robyn's Cookin'
About This Recipe
"Spicy, fresh, delicious! This recipe takes a bit of prep, but if you have two sets of hands, it's a fun dish to prepare! We're pretty new to Asian cooking, but this recipe seems unique to us because it's cool in temperature but hot in flavor; you get both types of spicy: "mouth spicy" from the jalapenos and "nasal spicy" from the wasabi! I got this recipe from a random magazine at the gym...I HAD to try it and proceeded to text it to my e-mail in a series of like, 10 text messages... we totally enjoyed the fruits of my labors, and now you can too. Prep time is approximate...we were multi-tasking so it's hard to say how much we spent on this individual dish. Anyway, hope you enjoy! :)"
Ingredients
SHRIMP

1 lb uncooked shrimp, peeled and deveind

1 tablespoon gingerroot, grated ( don't use powder)

2 garlic cloves, minced

1 1/2 teaspoons vegetable oil

NOODLES

4 ounces wide rice noodles, broken in half

1 1/2 teaspoons toasted sesame oil

2 cups napa cabbage, shredded

1 large carrot, shredded

1/2 cup radish, thinly sliced

1/4 cup fresh basil, torn

1 jalapeno, seeded and sliced

1/4 cup honey-roasted cashews or 1/4 cup wasabi peas

WASABI SAUCE

5 1/2 tablespoons soy sauce

5 1/2 tablespoons rice vinegar

1 1/2 tablespoons lime juice

1 1/2 tablespoons vegetable oil

1 1/2 teaspoons sesame oil

1 1/2 teaspoons sugar

1 1/2 teaspoons wasabi paste ( plus more to taste)
Directions
In a skillet, sauté the shrimp, ginger, and garlic in the oil for 3 minutes or until shrimp is cooked. Set aside.

Meanwhile, cook noodles according to package directions. Drain; rinse in cold water and drain again.

To serve, layer noodles, shrimp, cabbage, carrots, radishes, basil, and jalapeno in individual bowls. Pour dressing over top of each serving and sprinkle cashews or wasabi peas over top.

A Word of Caution: I highly suggest using the recommended 1 1/2 tsp of wasabi paste to start. Only add more if, after mixing it with the rest of the ingredients in the individual bowls, additional heat is desired. The sauce by itself never seemed hot to us, so we used almost an entire tube of wasabi -- and subsequently cried our way through dinner.