Cock-A-Leekie-Herb-Bread (A-B-M Dough Cycle)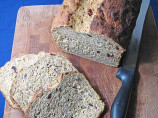 Photo by Kerfuffle-Upon-Wincle
Prep Time: 2 hrs 15 mins
Total Time: 2 hrs 50 mins
Serves: 16, Yield: 1 2 lb loaf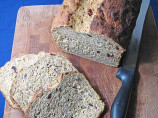 Photo by Kerfuffle-Upon-Wincle
About This Recipe
"Looking for a different herb bread? You found it! This is a whole wheat-rye-instant potato flakes bread, flavored with chicken bouillon granules, carrots, dried leeks and herbs, with a little sweetness from the optional prunes, or dried cranberries! This is a perfect bread for sandwiches, soups and stews -- Dried leeks was an impulse buy while shopping at a small international market — If dried leeks are unavailable in your area, substitute dried onions, or dried chives in this flavorful bread."
Ingredients
1 1/4 cups water

3 tablespoons water ( ADDITIONAL)

2 teaspoons chicken bouillon granules ( dissolved in water above, or substitute 2 chicken bouillon cubes, dissolved in water)

2 tablespoons bacon grease ( for flavor, melted ~ or substitute melted butter)

1 teaspoon lemon juice

1 1/2 cups bread flour

1 cup whole wheat flour

1/2 cup rye flour

1/2 cup instant potato flakes

2 1/2 tablespoons brown sugar

2 tablespoons dry buttermilk

1 tablespoon vital wheat gluten

1 teaspoon vital wheat gluten ( additional)

1/2 cup carrot ( shredded or grated fine)

6 -8 prunes ( chopped ~ OPTIONAL, or substitute 1/2 cup dried cranberries)

2 tablespoons dried leeks ( dried onions, or dried chives could be substituted)

2 teaspoons parsley flakes

1 teaspoon dried thyme leaves ( or 1/2 teaspoon ground thyme)

1 teaspoon celery seed

1/2 teaspoon dried rosemary ( crushed)

1/2 teaspoon garlic powder

1 1/2 teaspoons ground black pepper ( use less if desired!)

1 teaspoon salt

3 teaspoons bread machine yeast

1 tablespoon butter ( Melted ~ for SOFT CRUST after bread has baked!)
Directions
Place the first five (5) ingredients into pan of automatic bread machine.

Combine bread flour, whole wheat flour, rye flour, instant potato flakes, brown sugar, buttermilk powder, vital wheat gluten, shredded carrots, optional prunes or dried cranberries, dried leeks, parsley flakes, thyme leaves, celery seeds, rosemary, garlic powder, and black pepper together in a large bowl.

Spoon flour mixture into water mixture in pan of automatic bread machine.

On top of flour mixture, add salt to one corner of automatic bread machine.

On top of flour mixture, add yeast to opposite corner of automatic bread machine.

For a LOAF to be baked in a 375F oven (350F Pyrex or Dark Metal Pan): Select DOUGH CYCLE on automatic bread machine.

When DOUGH CYCLE is complete, remove dough to a flat surface sprayed with cooking spray ~ for a LOAF: flatten dough to about 12 x 15 inches to remove some of the air (punch down) ~ roll dough tightly (pinch seams) to fit into a 8 1/2 x 4 1/2 x 2 1/2 metal loaf pan sprayed with cooking spray.

Cover with cling film and LET DOUGH RISE UNTIL DOUBLE. (If desired do a very shallow slash in dough BEFORE or AFTER last rise.).

PREHEAT OVEN TO 375F (350F for PYREX OR DARK METAL PAN) ~ bake for 20 minutes ~ TENT WITH ALUMINUM FOIL ~ bake an additional 10-15 minutes. (Total bake time 30-35 minutes).

Remove from pan and cool 30 minutes on a wire rack ~ For a SOFT OUTSIDE CRUST, brush bread ALL OVER with 1 tablespoon melted butter.

NOTES FOR SUCCESSFUL BREAD: 1) Use fresh yeast! ~ 2) Better to use cool water than water that is too hot! HOT WATER KILLS YEAST! ~ 3) Please allow for an ADEQUATE SECOND RISE or your bread will be heavy and dense! ~ 4) BAKE IN YOUR BREAD MACHINE AT YOUR OWN RISK! I successfully bake in my oven after a proper second rise!