Moroccan Meatballs & Couscous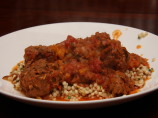 Photo by Dr. Jenny
Prep Time: 15 mins
Total Time: 50 mins
Serves: 4, Yield: 16 meatballs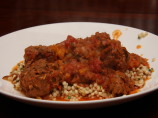 Photo by Dr. Jenny
About This Recipe
"Moroccan meatballs made with spiced lamb served with herb cous cous. This was just shown on TV here in the UK and I thought I'd save it on here for future reference, looks yummy!"
Ingredients
1 lb ground lamb

1/2 onion, finely chopped

2 tablespoons harissa

1 tablespoon dried breadcrumbs

salt and pepper

2 tablespoons parsley, chopped

For the sauce

1 1/2 onions, finely chopped

4 garlic cloves, crushed

1 tablespoon fresh ginger, finely chopped

2 ounces dried apricots, chopped

1 teaspoon paprika

1 teaspoon ground cinnamon

1 teaspoon coriander seed, crushed

1 (14 ounce) can chopped tomatoes

3/4 cup chicken stock

1 tablespoon honey

For the couscous

9 ounces couscous

1 3/4 cups chicken stock, hot

flat leaf parsley

fresh cilantro

1 lemon, juice

2 tablespoons extra virgin olive oil

1 1/2 ounces toasted sliced almonds
Directions
Combine lamb, onion, harissa and flat leaf parsley and season, roll into golf ball sized meatballs and fry off in medium hot pan until coloured.

In a heavy based pan, fry the onion, garlic and ginger until softened, add the spices and cook for 1-2 minutes

Add the tomatoes and apricots, then add the meatballs, top up with the stock and cover with a lid and cook for 30 minutes After 20 mins add the honey and season.

Place the couscous in a bowl and pour over the boiling stock, cover with plastic wrap and leave to stand for 5 mins, fork through to separate the grains then add chopped herbs, toasted almonds, lemon juice ,olive oil and salt and pepper and mix.

Serve with toasted pita bread.