Can't Believe It's Whole Grain Delicious Raisin/Craisin Muffins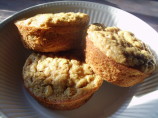 Photo by vrvrvr
Prep Time: 7 mins
Total Time: 32 mins
Serves: 12, Yield: 1 muffin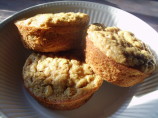 Photo by vrvrvr
About This Recipe
"This is a simple but really delicious recipe I've developed over time. In spite of being whole grain, they are pretty light. Applesauce replaces the fat, and it isn't missed at all. They're sweet without being too sweet, and disappear right after I make them. My toddlers, hubby, and I all love them. Of course there's plenty of room for variation with this recipe--any type of dried fruit can be put in, you can play with spices, or add some packed pumpkin puree. Lots of options. ADDED NOTE: I figured out why these haven't risen for me the last couple times--I neglected to transfer the baking soda when I entered this recipe. That's fixed now and these should be as delicious as ever now!"
Ingredients
1 cup rolled oats

1 cup low-fat buttermilk

3/4 cup whole wheat flour

1/2 teaspoon baking powder

3/4 teaspoon baking soda

1/4 teaspoon salt

1/2 teaspoon cinnamon

2 eggs

1/3 cup brown sugar ( lightly packed)

6 tablespoons unsweetened applesauce

1/3 cup raisins

1/3 cup craisins
Directions
Mix all ingredients well, pour into one 12-cup muffin pan. Bake at 400 degrees for 15-20 minutes or until done.