Black Bean and Sweet Potato Chili (Vegetarian)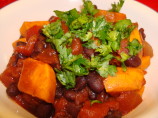 Photo by Starrynews
Prep Time: 15 mins
Total Time: 45 mins
Yield: 11 cups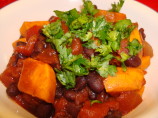 Photo by Starrynews
About This Recipe
"From The Great American Detox Diet by Alex Jamieson."
Ingredients
2 tablespoons extra virgin olive oil

1 medium red onion, chopped

1 red pepper, chopped

4 garlic cloves, minced

2 teaspoons sea salt

1 large sweet potato, cut into 1/2-inch cubes

1 lime, zest and juice of

1 (28 ounce) cans diced tomatoes

4 (15 ounce) cans black beans, rinsed and drained ( or 6 cups freshly cooked)

1 fresh jalapeno pepper, seeded and chopped

1 tablespoon cumin

1 tablespoon chili powder

1 tablespoon cocoa powder

1 lime, cut into wedges ( optional -- for garnish)

1 cup chopped cilantro leaf, washed and dried ( optional -- for garnish)
Directions
Warm the oil in a large pan over medium heat and add the onion, red pepper, garlic, and salt. Saute until soft, about 4 minutes.

Add the sweet potato and lime zest, cook 10-15 minutes more, continuing to stir occasionally.

Add the tomatoes, black beans, jalapeno, lime juice, cumin, chili powder, and cocoa; bring to a simmer, cover, and cook for 10 minutes.

OR omit the oil, throw everything in a crock pot, and cook on high for 6 hours.

Serve over brown rice with lime wedges and cilantro.