Addicting Wild Rice & Asparagus Salad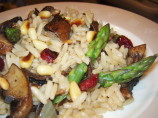 Photo by Elly in Canada
Prep Time: 5 mins
Total Time: 30 mins
Serves: 4-6, Yield: 4.0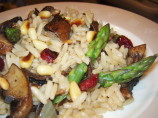 Photo by Elly in Canada
About This Recipe
"This is the PERFECT recipe that's easy, different, and will have people absolutely raving!"
Ingredients
2 (5 ounce) packages long grain and wild rice blend ( Mahatmas brand)

1 onion, chopped ( yellow works best)

2 -4 garlic cloves, minced ( more or less to your liking)

3 cups asparagus, chopped in 1 . 5 in pieces ( about 1 cluster total)

14 ounces chopped portabella mushrooms

1 (8 ounce) cans chicken broth

2 tablespoons olive oil

2 tablespoons red wine vinegar

garlic salt ( a few dashes to your liking)

1/2-1 cup pine nuts or 1/2-1 cup sliced almonds

1 cup craisins
Directions
1. Cook rice according to directions. About 2 minutes BEFORE rice is finished, add craisins and simmer until rice is cooked.

2. In a frying pan, add 1 can of broth, garlic, and onion. Simmer for about 2-3 minutes and then add the asparagus until cooked to your liking. Add mushrooms and cook for about 5 more minutes, more or less.

3. Drain any remaining broth and mix the onion mix with the rice and craisins.

4. Add vinegar & olive oil, mix well. Then add garlic salt and mix.

4. If using nuts, place then under a the broiler for a minute or two (watch them carefully so not to burn!) and then add them to the salad.

5. This dish can be served hot and is also quite tasty cold for a quick leftover dish!