Chicken Noodle Soup over Mashed Potatoes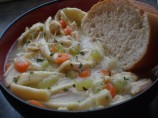 Photo by Rollin in the Dough!
Prep Time: 30 mins
Total Time: 1 hr 30 mins
Servings: 8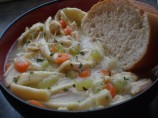 Photo by Rollin in the Dough!
About This Recipe
"If you haven't tried chicken noodle soup over mashed potatoes, I am sorry! You will never go back. It makes a creamy, delicious meal. I always make my Homemade Egg Noodles they really make a difference in the soup, 1 1/2 this recipe as you need more noodles. I also use Mashed Potato Virgin! for the potatoes, cut back a bit on the butter and milk when using in soup because all the liquid already gives it great flavor. Enjoy!"
Ingredients
2 (14 1/2 ounce) cans chicken broth or 4 cups chicken broth

6 1/2 cups water

2 medium chicken breasts

1 1/2 cups carrots, sliced

1 1/4 cups celery, sliced

1/2 cup onion, roughly chopped

4 1/4 teaspoons chicken bouillon granules or 4 -5 chicken bouillon cubes

1 teaspoon dried parsley

4 cups mashed potatoes, see recipe above

egg noodles, see recipe above it's what makes the soup or 11 ounces frozen wide egg noodles

salt & pepper, to taste
Directions
Bring 6 1/2 c water and chicken broth to a boil, add boullion cubes; dissolve.

Add chicken breasts, cook until no longer pink, remove, let cool then shred.

Skim top of broth to get any foam off top.

Bring to a boil again, add noodles, bring to a med boil again then add veggies.

Cook 15-20 minutes or until noodles are tender.

Turn heat off add chicken breast and parsley, cover.

Let stand about 10 minutes, S&P to taste, serve over a scoop of mashed potatoes.