Campfire S'mores Bread Pudding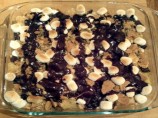 Photo by Greeny4444
Prep Time: 1 hr
Total Time: 1 hr 30 mins
Servings: 9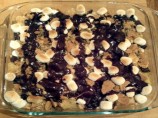 Photo by Greeny4444
About This Recipe
"This recipe comes from BH&G January '10 issue and is a prize tested recipe winner submitted by Dawn Wilber. I thought my family would enjoy it this winter."
Ingredients
4 hot dog buns, cut in 1-inch pieces

4 eggs

1 (14 ounce) cans sweetened condensed milk

3/4 cup milk

1 teaspoon vanilla

1/4 teaspoon ground nutmeg

1 cup mini marshmallows

3/4 cup semisweet chocolate piece

5 graham cracker squares, coarsely crushed ( about 1/2 c)

2 tablespoons milk
Directions
Preheat oven to 325°F Grease a 2 qt square baking dish. Set aside. Place bun pieces on shallow baking sheet. Bake 7 to 8 minutes or until dry and crisp. Cool.

In medium bowl, lightly beat eggs. Stir in sweetened condensed milk, 3/4 c milk, vanilla and nutmeg; set aside.

Place bun pieces in prepared baking dish. Sprinkle with 1/2 c each of the marshmallows and chocolate pieces. Evenly pour milk mixture over all. Let stand 5 minutes. Sprinkle with crushed graham crackers. Bake, uncovered, for 35 minutes. Sprinkle with 1/4 c of the remaining marshmallows. Bake for about 5 minutes or until a knife inserted near center comes out clean.

For drizzle, in small saucepan, heat and whisk remaining marshmallows, remaining chocolate pieces and 2 T milk over low heat until melted and smooth. Drizzle over bread pudding. Cool 20 to 30 minutes before serving. Serve warm.