Kona K's Too Easy Smoky & Spicy Chicken Thighs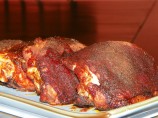 Photo by Baby Kato
Prep Time: 5 mins
Total Time: 50 mins
Serves: 4, Yield: 4 thighs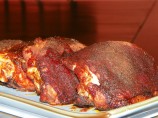 Photo by Baby Kato
About This Recipe
"These chicken thighs are so yummy and easy to make! Perfect for busy weeknights. Just get the spices together the night before, allow the thighs to marinate over-night, and voila -- no need to worry about tomorrow's dinner. I love the spicy and smoky flavors, and the thighs remain juicy on the inside with a nice crispy crunch outside! I haven't tried this with other meats, but I have a feeling this will go great with pork as well!"
Ingredients
1 tablespoon cayenne pepper

1 tablespoon paprika

1 tablespoon garlic powder

1 -2 tablespoon chili powder ( depending on how much spice you like)

salt & pepper

4 chicken thighs

1 tablespoon soy sauce
Directions
Combine cayenne pepper, paprika, garlic powder, chili powder, salt and pepper in small bowl.

Place chicken thighs on plate. Sprinkle liberally with the spice mixture. Make sure chicken thighs are all well-coated.

Place chicken into a bowl, cover, and refrigerate for at least 8-10 hours (I like to let it marinade overnight).

When you're ready to cook, preheat oven to 350 degrees.

Place chicken thighs in single layer on a baking tray.

Spoon a drizzle of soy sauce (about 1 TSP) over each thigh.

Bake for about 30-45 minutes, or until chicken is completely cooked.