Butterflied Lobster Tails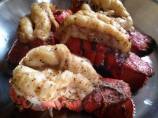 Photo by Kim H.
Prep Time: 15 mins
Total Time: 40 mins
Servings: 4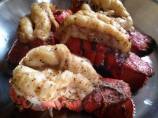 Photo by Kim H.
About This Recipe
"Butterflying lobster tails is a presentation common in restaurants. It is a little more complex method of cooking a lobster tail but it is well worth the effort for this spectacular presentation."
Ingredients
Marinade

1/2 cup butter

1/2 teaspoon paprika

1 teaspoon garlic powder

2 teaspoons lemon juice

1 teaspoon salt

1 teaspoon white pepper
Directions
Defrost the lobster tails.

Preheat the oven to 450 degrees.

Using kitchen shears cut down the center of top of each tail down to the base. Next grab each side of the shell and gently pry the shell away from the meat- leaving the meat at the base of the tail attached. Squeeze the shell together to close the gap and lay the meat on top of the shell. Gently slice the meat 3 times down the top- enough to be able to lay the meat over the sides of the shell. Repeat for the remaining tails.

Place the tails in an oven safe pan and brush the top of each tail with the marinade. You will want to baste the tails again 2 or 3 times during the cooking process.

Bake the tails for about 25 minutes. Cooking times may vary so make sure you keep an eye on the tails!