Pumpkin Apple Spice Bread (Vegan or Not)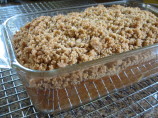 Photo by Lisa Clarice
Prep Time: 15 mins
Total Time: 1 hr 15 mins
Serves: 8, Yield: 2 Loaves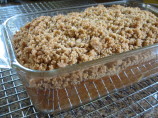 Photo by Lisa Clarice
About This Recipe
"This is a wonderful pumpkin, apple spice bread! I give both vegan and regular baking option, but I bake this vegan because the banana makes it super moist. This recipe makes two loaves. One option is to make one loaf and then save half the batter for muffins. Bake muffins for 25 minutes at 350 degrees."
Ingredients
2 cups flour ( whole wheat pastry flour)

1/2 cup brown sugar

1 1/2 cups sugar

1/2 teaspoon salt

1 teaspoon baking soda

1/2 teaspoon baking powder

1 teaspoon cinnamon

1 teaspoon nutmeg

1/2 teaspoon ground cloves

3/4 cup butter ( or vegan butter)

2 eggs ( or one ripe banana or any egg substitute)

1 (15 ounce) cans pumpkin

1 teaspoon vanilla

2 granny smith apples, peeled and diced

1/2 cup raisins

2 teaspoons sugar ( for topping)

2 teaspoons brown sugar ( for topping)

1 teaspoon cinnamon ( for topping)
Directions
Preheat oven to 350.

Grease loaf pan. This recipe makes two loaves. So you can save half the recipe for muffins or a second loaf.

Combine sugars and butter in mixer.

Next add vanilla, pumpkin, and eggs (or banana) and mix.

In a separate bowl, combine flour, salt, soda, powder, cinnamon, nutmeg, and cloves. Now add this to the batter.

Once all mixed well together, last add the raisins and apples.

Bake for 50-60 minutes.

During the last ten minutes of baking, combine the topping ingredients and sprinkle on top of bread. Topping is optional.