Beet Salad in Grand Marnier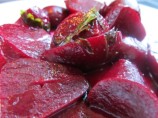 Photo by K9 Owned
Prep Time: 15 mins
Total Time: 2 hrs 15 mins
Servings: 4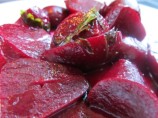 Photo by K9 Owned
About This Recipe
"This recipe was in a emailed newsletter from MyDailyMoments.com and since I have just discovered how good beets are had to post this one for safe keeping. Cooking time includes 2 hours for boiling and chilling the beets."
Ingredients
1 1/2 lbs beets

2 -3 teaspoons sugar

1 large lemon, juice of

1 tablespoon olive oil

1/4 teaspoon cinnamon

1/4 teaspoon cumin

1/8 teaspoon sweet paprika

3 -4 tablespoons parsley

2 teaspoons water

salt, to taste

1 tablespoon Grand Marnier
Directions
Scrub beets well but be careful to not damage the skin. Trim off the long root of the beet and leave about a 1/2 inch stem on the tops.

In a large heavy saucepan filled with water add the cleaned beets and bring to a boil cooking beets until tender. This could take 30 to 60 minutes depending on the size of your beets.

Drain beets and add cool running water to reduce the temperature to the point where they can be handled. Peel and trim the beets then dice into bite sized cubes approximately 1/2 to 3/4 inches.

In a large bowl add remaining ingredients and mix well. Pour over warm beets and toss together to combine. Refrigerate for at least one hour before serving.