Julia Child's Asparagus Simmered in Onions, Garlic, and Lemon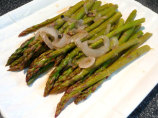 Photo by Outta Here
Prep Time: 0 mins
Total Time: 55 mins
Servings: 4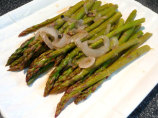 Photo by Outta Here
About This Recipe
"This recipe is based on one found in "From Julia Child's Kitchen". It may be served either hot or cold."
Ingredients
Marinade

1 cup thinly sliced onion

1/3 cup good quality olive oil

2 -4 large garlic cloves, peeled and thinly sliced

1 lemon, zest of

1/2 teaspoon thyme or 1/2 teaspoon herbs, mixture such as italian or 1/2 teaspoon herbes de provence

1 bay leaf

1/2 teaspoon peppercorn

1/2 cup dry white wine or 1/2 cup dry white french vermouth

1/4 cup fresh lemon juice

2 cups water

1/2 teaspoon salt

fresh minced parsley
Directions
Before peeling asparagus, start on the marinade. In a heavy saucepan, cook onions slowly in the olive oil with garlic, zest, herbs, and bay leaf. When tender (about 10 minutes), add peppercorns, wine, lemon juice, water, and salt. Cover and simmer slowly for about 20 minutes.

Peel asparagus. Lay in a flameproof casserole dish and pour marinade over so asparagus is just covered with liquid (more water may be added if needed). Bring to a boil, cover, and simmer slowly for 20 minutes, or until asparagus is tender. Take out asparagus and arrange on serving platter. Boil down the cooking liquid until lightly syrupy and spoon over the asparagus. Sprinkle with parsley.