Craze-E Turkey Meatballs in Sauce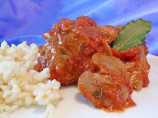 Photo by awalde
Prep Time: 15 mins
Total Time: 45 mins
Servings: 4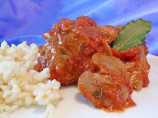 Photo by awalde
About This Recipe
"Very good and very easy meatballs in a delicious mushroom-tomato sauce. The entire family will love this meal - or take it to the office potluck."
Ingredients
Meatballs

1 lb ground turkey

1/2 cup dry breadcrumbs

1/2 cup minced fresh parsley

1/3 cup onion, minced

1/3 cup evaporated milk

1/4 cup grated parmesan cheese

2 garlic cloves, minced very finely

1 egg

1 tablespoon Worcestershire sauce

salt and pepper, to taste

Mushroom-Tomato Sauce

1 tablespoon olive oil

1/2 lb button mushroom, sliced

1/2 cup minced onion

1 garlic clove, minced very finely

2 (14 1/2 ounce) cans diced tomatoes, pureed

1/2 cup beef broth ( plain water can be used)

1 bay leaf

1 teaspoon dried oregano

1 teaspoon dried basil

1/2 teaspoon sugar (optional)

1/4 teaspoon cayenne pepper

salt and pepper, to taste

To Plate
Directions
Combine all the meatball ingredients in a bowl and mix gently using your (clean) hands so that everything is evenly distributed. Shape mixture into 1-inch meatballs. Set aside.

In a saucepan over medium heat, saute mushrooms in olive oil for 5 minutes. Add onion and garlic and cook until softened, 2-3 minutes longer. Add pureed tomatoes, broth or water, herbs and seasoning and bring to boil. Drop in meatballs and cook for 30 minutes, or until meatballs are cooked through and sauce has thickened (do not stir meatballs in sauce for first 5 minutes so that they can firm up). Remove bay leaf.

Serve over brown rice or egg noodles or pasta, with extra parmesan cheese.

Note: This can also be placed in a casserole dish, rice on bottom, meatballs and sauce on top, and reheated later on.