Tuber Toss (Potato, Sweet Potato and Carrot)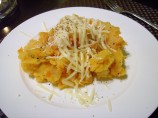 Photo by Elise and family
Prep Time: 30 mins
Total Time: 30 mins
Servings: 2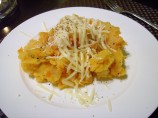 Photo by Elise and family
About This Recipe
"Known in our family as "Potato Blob", this tastes better than it sounds! Honey-fried onions, some chili peppers and a bit of cheese on top make for a sweet and peppery, but not too strong, one-dish meal or side-dish."
Ingredients
3 big potatoes

1 big sweet potato

1 big carrot

4 tablespoons onions, chopped

1 teaspoon honey

1 1/2 teaspoons butter

1/2 teaspoon chile

4 tablespoons milk, roughly

1 tablespoon butter, roughly

salt and pepper

1/4 cup white cheddar cheese, grated ( or more)
Directions
Chop potatoes, sweet potato and carrot into bite-size pieces, placing in a big bowl of cold water as you go, to keep them fresh. Once all are chopped, put pieces into a pot of water and bring to a boil on high heat. Continue to boil at high heat until a piece will come apart easily when poked with a fork.

While vegetables are cooking, fry onion, honey, 1 1/2 tsp of butter and chilis in a small pan until golden and tender. Turn off heat and set aside.

When potatoes and carrots are cooked, drain the boiling water out of the pot and mash them until smooth, adding milk and 1 TBSP butter as you go. Add fried onions and mix well. Add salt and pepper to taste.

Divide between two plates and top with grated cheese and some more pepper. Enjoy!