Joe's Split Pea, Bacon, Ham & Potato Soup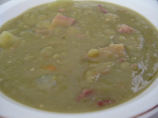 Photo by Brenda.
Prep Time: 20 mins
Total Time: 3 hrs 5 mins
Servings: 12-14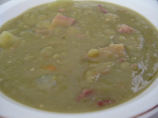 Photo by Brenda.
About This Recipe
"This was my first attempt at making pea soup, and because it was the first time, I went and checked out a multitude of other recipes to get ideas. This is the resultant recipe, and if I do say so myself, it's the best pea soup I've ever tasted. I know that sounds like boasting, but I really mean it. This recipe made an excellent pea soup. Try it, you'll like it!"
Ingredients
2 cups green peas, dry split

1 cup green peas, dry whole

9 slices bacon

1 1/2 cups red onions

1 cup celery

1 1/2 cups green bell peppers

3 teaspoons garlic, minced

2 bay leaves

1/2 teaspoon marjoram

1/2 teaspoon ground black pepper

7 cups water

2 teaspoons chicken bouillon granules

2 teaspoons beef bouillon granules

1 ham bone

2 lbs russet potatoes
Directions
Rinse peas in a colandar and set aside.

Medium chop red onion, celery, and green pepper, and cut bacon into small pieces.

Add the bacon to a large soup pot, and render the bacon, on medium high heat, until crispy. Add onions, celery and green pepper to the bacon and bacon fat, and cook until onions are translucent. Add garlic and cook for 1 minute more. Add the bay leaves, marjoram, black pepper, peas, water and bouillon granules and stir well. Add the ham bone and bring the soup to a boil. Reduce heat and simmer for 1-1/2 hours (90 minutes), stirring occasionally.

Remove the ham bone and allow to cool. Meanwhile, cut up the potatoes into bite sized pieces and add to the soup pot. If soup if too thick, add additional water. Remove any remaining ham from the ham bone, cut the ham into bite sized pieces, and return to the soup pot. Check the soup pot for large pieces of ham, hunks of fat, etc. Cut up the ham, and remove the hunks of fat. Continue to simmer for 30 to 45 minutes, or until the potatoes are fork tender.

Serve and enjoy.