Red Wine Braised Center-Cut Beef Shanks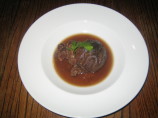 Photo by Potagekempcc
Prep Time: 15 mins
Total Time: 2 hrs 15 mins
Servings: 4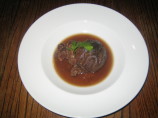 Photo by Potagekempcc
About This Recipe
"Center-Cut Beef Shanks braised in Merlot Wine, fine fresh herbs and serve over Egg Noodles."
Ingredients
4 beef shanks ( Center Cut 8 oz. each)

1/4 cup extra virgin olive oil

2 teaspoons fine sea salt

2 teaspoons fresh ground black pepper

2 cups brown onions ( Chopped)

1 cup carrot ( Chopped)

3 tablespoons garlic ( Chopped)

2 cups merlot ( Repertoire)

6 cups beef stock

3 cups roma tomatoes ( Chopped)

2 tablespoons tomato paste

3 bay leaves

2 sprigs lemon thyme

2 sprigs fresh parsley

3 sprigs fresh rosemary

2 sprigs winter savory ( Fresh)

4 juniper berries

4 black peppercorns

1 lb egg noodles
Directions
In a braising pan heat 3-tablespoons olive oil, onions, carrots and saute until tender. Add garlic and saute for a minute.

In a bowl add olive oil, sea salt, black pepper and wisk. Toss beef shanks one at a time in oil.

Place 2 beef-shanks in braising pan and sear on both sides, remove from pan and set aside. Sear remaining beef shanks and place all beef- shanks into the pan.

Add 1/2 cup Merlot wine and reduce wine by one-half.

Add beef stock, tomatoes, tomato paste, bring to a full boil and reduce to simmer.

Place fresh herbs, juniper berries, peppercorns in cheesecloth, tie with string and place in pan. Place a tight fitting lid over pan and braise 1 1/2 to 2 hours or until beef is tender.

Remove beef-shanks and hold warm. Strain beef stock and cook egg noodles in beef stock until tender.

Divide noodles into warm bowls and place 1 Center-Cut Beef Shank on top. Add beef broth and garnish with fresh chopped parsley.

Chef's Note: Use a good quality Repertoire Wine2006 2006; Harmony Cellars, Paso Robles, Calif.