Fee's Special Kitty Cat Renal/Kidney/Diabetes Diet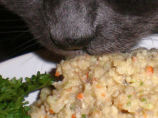 Photo by Sandi (From CA)
Prep Time: 2 mins
Total Time: 6 mins
Yield: 1 cup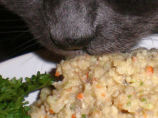 Photo by Sandi (From CA)
About This Recipe
"My cat, Fee, is 22 years old(!), blind and has kidney disease, but his quality of life is still great thanks to daily subcutaneous fluids, a special diet, and daily supplements that lower his BUN and creatinine. For a change of pace from Fee's usual (costly) prescription diet, I occasionally make this for him. Diabetics need fiber and kidney kitties need to limit protein. The inclusion of brown rice addresses these issues. The ingredients as given are minced, but I drop everything into my Magic Bullet yielding the consistency of pate. You can freeze portions, too - handy! Time estimate includes the mixing of all ingredients, cooked and otherwise, and the final quick cook of the mixture that includes the eggs. <<<< UPDATE >>>> I just wanted to mention that Fee is 24 years old now, which is roughly 113 in human years!"
Ingredients
2 eggs

2 tablespoons cooked green beans, finely minced

2 teaspoons finely minced carrots ( if you substitute other vegetables, avoid those with a higher natural sugar content)

2 tablespoons baked chicken breasts, minced ( no skin)

2/3 cup cooked and cooled brown rice ( unrefined, wild rice is good)

1 -2 tablespoon olive oil ( according to how moist your cat prefers his or her food. Olive oil is good for preventing hair balls)
Directions
Mix all of the ingredients thoroughly. The rice must be mixed in well because smart cats (which ones AREN'T?) are liable to retrieve all that ISN'T rice from the dish, the clever little furballs --.

Cook in a medium skillet over low heat, stirring and �chopping� constantly, until the egg is at least soft-set but done.

Refrigerate or freeze in air-tight containers (Tupperware, Rubbermaid, Ziploc). Use the refrigerated portions within 36 hours.