Another Yummy Veggie Loaf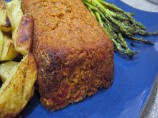 Photo by magpie diner
Prep Time: 15 mins
Total Time: 50 mins
Servings: 8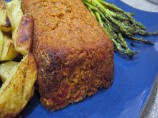 Photo by magpie diner
About This Recipe
"My non-vegetarian husband is always raving about how much he loves Textured Vegetable Protein, so I wanted to develop a faux meatloaf using TVP. I heavily modified a recipe found here: http://fatfreevegan.com/Meat_subs/loaf.shtml to try to make it closer to my Mom's famous meatloaf."
Ingredients
1 cup low-sodium V8 juice ( or tomato juice)

1/2 cup ketchup

1 cup vegetable broth

1 tablespoon marmite (optional)

1 tablespoon Braggs liquid aminos ( or soy sauce)

2 cups textured vegetable protein

1 cup quick oats

1/2 cup shredded carrot

1/4 cup ground flax seeds

1 tablespoon nutritional yeast

1/2 onion, finely chopped

2 garlic cloves, crushed in garlic press

2 tablespoons fresh parsley, finely chopped

1 teaspoon dried thyme

1 teaspoon dried basil

fresh ground black pepper, to taste
Directions
Mix V8, ketchup, broth, marmite, and aminos in a medium mixing bowl. Stir in TVP. Let sit about 10 minutes, or until most of the liquid is absorbed.

Meanwhile, mix all other ingredients in another medium or large bowl. Stir in TVP mixture.

Pack into a 9 x 5 loaf pan. Bake 35-40 minutes or until slightly browned on top. Cool about 10 minutes before slicing. Enjoy with vegan mashed potatoes and gravy. Leftovers make great sandwiches.