Lettuce Wedge With Ranch Dressing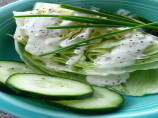 Photo by COOKGIRl
Prep Time: 15 mins
Total Time: 15 mins
Servings: 4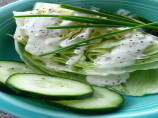 Photo by COOKGIRl
About This Recipe
"I love salads, and this is no exception. Enjoy it with homemade Ranch Dressing instead of Blue Cheese."
Ingredients
1 small head iceberg lettuce

1 small cucumber, sliced ( thinly)

1/2 cup sour cream

1/4 cup plain yogurt

1/2 cup mayonnaise

1 garlic clove, pressed ( or minced)

1 tablespoon white vinegar

1 tablespoon chopped chives

1/4 teaspoon salt ( kosher)

1/4 teaspoon pepper, ground
Directions
Trim the core even with the bottom of the lettuce and cut the lettuce into quarters through the core. If the quarters look too big for a single serving, either cut them in half or trim them to whatever size you feel is a good serving.

Combine the sour cream, yogurt, mayonnaise, garlic, vinegar, and chives in a bowl until well mixed. Season with salt and pepper. Cover and refrigerate until ready to use.

To serve, set the wedge of iceberg in the center of a salad plate, add cucumber, and spoon the dressing over and dash it with a good pinch of chives.