Apple Walnut Rice Stuffing (Vegan)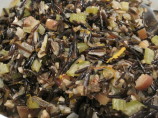 Photo by magpie diner
Prep Time: 20 mins
Total Time: 1 hr 5 mins
Serves: 4, Yield: 4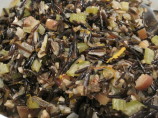 Photo by magpie diner
About This Recipe
"This is a recipe from a 1987 issue of Better Homes & Gardens, from a Tyson chicken ad. It's meant to be stuffing for cornish game hens but because I don't eat meat and poultry, this serves as a nice vegetarian side dish (non-vegans can use butter for a richer flavor.) This would be great for Thanksgiving, Christmas, or any other feast. I don't normally keep storebought wild rice on hand so I used 1/3 cup each brown rice, black rice, and long-grain yellow rice. The ingredients were listed in the ad but no actual instructions were...so my instructions pretty much work, I had to add the extra 2 TB oil for cooking the onion; it wasn't originally listed. I chose those two oils based on what was on hand and what I thought would have the most interesting flavors."
Ingredients
1 cup wild rice

2 tablespoons sunflower oil ( any oil of your choice works(for cooking the rice)

1 celery heart, minced ( with leaves still on)

1 small white onion, finely chopped

2 tablespoons olive oil ( any oil of your choice works(for sauteeing the onion)

1/4 cup chopped walnuts

2 mcintosh apples, cored and chopped

2 tablespoons port wine

1 teaspoon dried parsley
Directions
Boil 2 cups of water in a large saucepan with a few shakes of table salt, and put the rice in it. Stir in the oil and cover, let cook on medium heat for 15-20 minutes or until an "al dente" texture.

While the rice is cooking, turn on another burner and sautee the chopped onion in 2 TB oil of your choice until somewhat translucent, about 15-20 minutes.

Turn the burners off to but leave the saucepan on with the rice and water. Fluff up with a wodden spoon or fork to evenly distribute the oil and you'll need the extra water too.

In a small bowl, combine the port and parsley.

Pour the sauteed onion, chopped celery, chopped apple, walnut bits, into the rice pan and mix.,

Pour on the port and parsley mixture, and blend well.

Turn the saucepan's burner back on, on medium-low heat, and cover again. Let cook another 8-10 minutes.

Uncover, fluff with a wooden spoon or fork, and let stand for 5 minutes prior to serving or stuffing.