Sweet Fruit Pizza That Looks Like a Regular Pizza!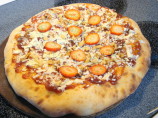 Photo by Wish I Could Cook
Prep Time: 30 mins
Total Time: 40 mins
Serves: 8, Yield: 1 Pizza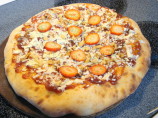 Photo by Wish I Could Cook
About This Recipe
"There are a lot of fruit pizza recipes out here, but this one has a twist, it uses a regular pizza dough crust (I use Honey Pizza Dough (awesome) with 1/2 cup sugar added and it makes two pizza crusts), and the toppings make it look like a "regular pizza." Really good and super fun for kids to make too. And as a bonus, if you are careful about the white chocolate you use, I think it could be considered vegan. Feel free to experiment!"
Ingredients
1 pizza crust

1/2 cup strawberry jam ( or raspberry, or any red jam or jelly)

3 ounces white chocolate ( or use almond bark)

1/4 cup walnuts, chopped

4 strawberries
Directions
Make pizza dough according to directions but add about 1/2 cup extra sugar to make it sweet. Bake the dough empty. Cool.

Spread with jam/jelly.

Using a potato peeler or grater, add enough white chocolate shavings to look like cheese.

Sprinkle on walnuts to look like sausage.

Slice strawberries to look like pepperoni slices.

Sprinkle with green sugar or other green cookie sprinkles if you want to simulate oregano.

I find that it looks best the first day. But tastes great even if the strawberries dry out a little --

Enjoy!