Forgotten Cookies-Diabetic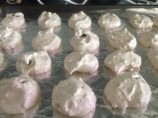 Photo by deanadolphin
Prep Time: 15 mins
Total Time: 12 hrs 15 mins
Yield: 3 dozen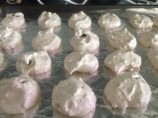 Photo by deanadolphin
About This Recipe
"I haven't tried this recipe yet but I couldn't pass up posting it because I don't want to lose it and others might enjoy a "legal" cookie recipe. I'm totally guessing at the yield. Zaar is listing the calorie and fat content (mostly fron the nuts) for a dozen cookines. Dividing 12 into that amount breaks down to each cookie having 33.5 calories. If you wish to lower it more just use less nuts."
Ingredients
2 egg whites, at room temperature

2/3 cup sugar substitute ( Splenda recommended)

1 pinch salt

1 teaspoon vanilla extract

1 cup finely chopped pecans

1/4 cup sugar-free chocolate chips, finely chopped
Directions
Preheat oven to 350°.

Beat egg whites until foamy.

Gradually add sugar substitute and continue beating until they hold stiff peaks.

Add salt and vanilla.

Stir well.

Stir in pecans and chocolate chips.

Cover cookie sheet with foil and spray with a non stick spray.

Drop by teaspoonfuls onto the foil. Put in oven then turn the oven off.

Leave overnight in oven with door closed.