Gluten Free Chocolate Chip, Raisin, Walnut Cookies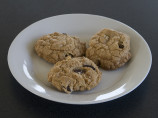 Photo by Yankiwi
Prep Time: 15 mins
Total Time: 25 mins
Serves: 16, Yield: 32 cookies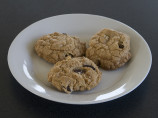 Photo by Yankiwi
About This Recipe
"These relatively healthy absolutely delicious chocolate chip cookies are a gluten-free adaptation of my favorite chocolate chip cookie. The raisins keep the cookies moist but they are hardly noticeable. It is easiest if you use a pre-made gluten free flour mix. Just about any mixture will do but I use Food Philosopher (registered) brown rice flour mixture and here is the breakdown of the ingredients that make up that mixture*: 1 1/2 cups brown rice flour 1/3 cup potato starch 8 teaspoons tapioca flour 1/2 teaspoon tapioca flour. I have had success with other gluten-free flour mixes but this one works the best for me."
Ingredients
2 cups brown rice flour, mix*

1/2 teaspoon baking soda, gluten-free

1/2 teaspoon salt

1/2 cup chocolate chips

1/2 cup raisins

1/2 cup walnuts, chopped

1/2 teaspoon xanthan gum

1/2 cup canola oil

1 large egg

1/2 cup brown sugar, packed

1/2 cup white sugar

1 teaspoon vanilla

1/2 tablespoon water
Directions
Preheat the oven to 190 degrees C (375 degrees F).

Mix all dry ingredients in a large bowl. (Use a stand mixer if available.).

Mix the oil, egg and sugars until pale and creamy looking. Add the vanilla and water.

Pour the liquid ingredients into the dry ingredients and mix until thoroughly combined. If the chocolate chips fall out of the dough, add a little more water.

Using two spoons, drop small walnut sized piles of the mixture onto Teflon or baking-paper-lined oven sheets, leaving about 4–5cm between each to allow spreading as they cook.

Place, one tray at a time, in the middle of the oven and bake for 10–11 minutes until not quite golden brown. Be careful not to overcook, they are still tasty but crumbly.

Cool on baking tray for a few minutes, then on racks until completely cool before transferring to an airtight container for storage. They keep well for a few days, otherwise store in the freezer.