Sarasota's Roasted Tomato, Onion and Mushroom Salad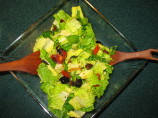 Photo by Chicagoland Chef du Jour
Prep Time: 10 mins
Total Time: 30 mins
Serves: 6, Yield: 6 Salads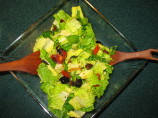 Photo by Chicagoland Chef du Jour
About This Recipe
"Crisp romaine topped with warm roasted vegetables makes this a wonderful salad. Most people are used to the "standard" salad with chilled vegetables and a dressing. This really just just gives a new taste to salads. A great twist on classic salad ingredients. And please feel free to add local fresh ingredients. Zuchinni, summer squash, asparagus, beans, or any local fresh ingredients of your choice."
Ingredients
16 grape tomatoes ( cut in half)

1 large onion ( cut in half and thin sliced)

16 cremini mushrooms, cut in quarters ( button or white mushrooms work well too)

2 heads romaine lettuce hearts

1/2 cup black olives, cut in half ( chilled)

1/4 cup olive oil

1 teaspoon kosher salt

1/2 teaspoon pepper

Dressing

1/3 cup olive oil

2 tablespoons fresh lemon juice

1 tablespoon honey ( I add more, but add as much as you like according to taste)

1 teaspoon italian seasoning

1 pinch red pepper flakes

salt

pepper
Directions
Romaine -- This to me is key -- I rough chop the romaine (not a final chop for the salad) and place in a large bowl with ice water. Yes, ice cubes and water. I want it icy cold so the romaine is very crisp. Just 15 minutes or so as the vegetables roast. This gets the lettuce nice and crispy for the salad which to me really makes this salad the best. Once the vegetables are done, remove the lettuce and drain well, dry off with just paper towels, and chop further for the salad and set to the side in a large bowl to be dressed.

Vegetables -- In a large bowl add the mushrooms, tomatoes, onions, and olive oil, salt and pepper and toss well. Heat the oven to 425 and line a cookie sheet with parchment paper, foil will work just fine as well. Add the vegetables to the baking of cookie sheet and cook 15-20 minutes until tomatoes begin to soften and onions are slightly brown.

Dressing -- As the vegetables cook, make the dressing. I like to use a small tupperware or small measuring cup. Just add all the ingredients, mix well, and heat in the microwave for 30 seconds on medium heat. DONE!

Salad -- Just add the roasted warm vegetables to the chilled lettuce, warm dressing and the chilled olives and mix. Serve immediately.

Serve with a baguette toasted with melted cheese and roasted garlic. A favorite. As I roasted the vegetables, I also roasted a few garlic cloves and then I spread the soft cloves on the bread and then topped with havarti cheese and bake until melted. What a simple nice side to the warm salad.