Chicken Pot Pie With a Twist!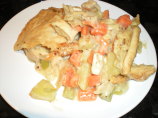 Photo by cfletcher
Prep Time: 15 mins
Total Time: 50 mins
Serves: 4, Yield: 1 casserole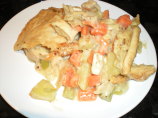 Photo by cfletcher
About This Recipe
"I've searched for a chicken pot pie that had a bit more flavour, couldn't find one so I made this last night. I have to say that it had a very nice flavour and texture. The secret is adding mustard! Hope you enjoy it as much as we did !"
Ingredients
2 large chicken breasts

salt

pepper

olive oil

1 large onion, chopped

2 stalks celery, chopped finely

2 large potatoes, cubed

3 large carrots, cubed

1/2 cup frozen peas

10 1/2 ounces cream of chicken soup

1/2 cup milk

1 tablespoon coarse grain mustard, Dijon

1 ounce chicken bouillon, package

1 frozen pie crust, dough
Directions
Heat the oil in a pan over medium heat.

Add salt and pepper to the chicken.

Fry on medium or lower until cooked through. You might have to reduce the heat so that the chicken will NOT brown - just cook.

While the chicken is cooking slowly, chop the onions and celery.

Add onions and celery to the same pan as the chicken

Cover the chicken and vegetables so that they become tender.

While this is cooking, chop the potatoes and carrots - cubed.

Boil potatoes and carrots until fork tender.

Add frozen peas about 5 minutes before the potatoes and carrots are done.

In a separate bowl, mix chicken soup, milk, chicken boullion and mustard -- consistency should be loose (you might have to add a bit more milk to make it a sauce).

Drain vegetables and add to a large casserole dish.

Remove chicken and chop into bit size pieces - add to casserole.

Add softened onions and celery on top of casserole.

Pour soup mixture on top of casserole.

Roll out pie dough on top of casserole.

Bake at 350 F for 35 - 45 minutes until pie dough is golden brown.