Salmon With Pomegranate and Orange Salsa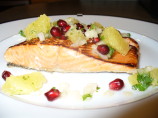 Photo by IngridH
Prep Time: 2 hrs
Total Time: 2 hrs 10 mins
Servings: 4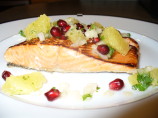 Photo by IngridH
About This Recipe
"This woman makes the most gorgeous food. Check her out! http://laylita.com/recipes/2009/01/05/salmon-with-pomegranate-and-orange-salsa/"
Ingredients
Pan seared salmon

1 -1 1/2 lb salmon, cut into 4 fillets can also use halibut, tilapia, cod, red snapper, etc

2 garlic cloves, crushed

1 teaspoon ground cayenne pepper

1 teaspoon ground fennel

2 tablespoons lime juice

1/3 cup white wine

2 tablespoons olive oil

1 teaspoon salt

1 teaspoon ground pepper

2 -3 tablespoons butter or 2 -3 tablespoons oil

Pomegranate salsa

1 cup pomegranate seeds, from 1/2 large pomegranate or 1 cup arils from 1/2 large pomegranate

3 oranges, peeled and cut into supreme style segments ( all the skin or pith or membranes or seeds removed)

1 lime, juice of

1/2 onion, finely diced

2 tablespoons cilantro, finely chopped

2 serrano peppers, seeded and membranes removed, finely diced replace with jalapenos for milder version

1 teaspoon cumin seed

2 tablespoons olive oil

salt

pepper
Directions
Mix the crushed garlic, cayenne pepper, fennel, lime juice, white wine, olive oil, salt and pepper together to prepare a marinade for the fish.

Let the fish marinate for 1 to 2 hours.

Meanwhile to prepare the pomegranate salsa, combine the pomegranate arils, orange supreme, any juice squeezed from the orange membranes, lime juice, diced onion, cilantro, serrano peppers, cumin seeds, olive oil, salt and pepper.

Mix the salsa well and let it rest refrigerated until ready to use.

Heat the butter or oil over medium high heat in a large sauté pan, add the salmon fillets and cook until browned on each side and cooked, about 3-5 minutes per side depending on the thickness of the fillets.

Serve immediately with the pomegranate salsa on top or on the side.