Thanksgiving Cranberry Fig Jam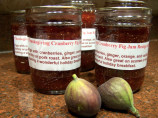 Photo by Rita~
Prep Time: 20 mins
Total Time: 1 hr 5 mins
Serves: 68, Yield: 6.5 half pint jars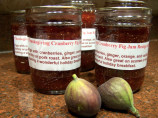 Photo by Rita~
About This Recipe
"Aah! The last of the figs from my garden. Thanksgiving is 1 month away so I added cranberries, ginger root, orange, and vanilla. Try it on your turkey or pork roast. Also great on scones or warmed over pancakes making a wonderful holiday breakfast."
Ingredients
1 orange

907.18 g figs, washed and quartered

709.77 ml brown sugar

4.92 ml grated gingerroot

1 vanilla pod, split

59.14 ml lemon juice, bottled

473.18 ml cranberries, fresh or 473.18 ml frozen cranberries, divided
Directions
Zest orange and rough chop meat discard pith, place it and all the ingredients except one cup of cranberries in a heavy bottom pot over low flame.

Stir to release juices it will be thick. Stirring not to burn. Juices will come and when it does raise heat to high stirring most of the time. At this time remove the vanilla bean.

Using the immersion blender to puree some of the fruit leaving some chucks. Then add the other cup of cranberries.

When it hits a rolling boil for 15 minutes all the time stirring.

Pour into sterile jars leaving 1/2 inch head space and process 10 minutes.

turn flame off and remove lid. Time 5 more minutes. Remove jars holding upright. Cool in draft free spot overnight. Label and use with in 1 year if unopened. Opened store in refrigerator.